Fedor Saltanov and Valentina Saltanova are children of the war and clearly remember the German occupation and the famine years. They met in 1968, when Valentina worked as a dispatcher and Fedor as a bus driver. They got an apartment in Pervomaisk and lived there while they were working.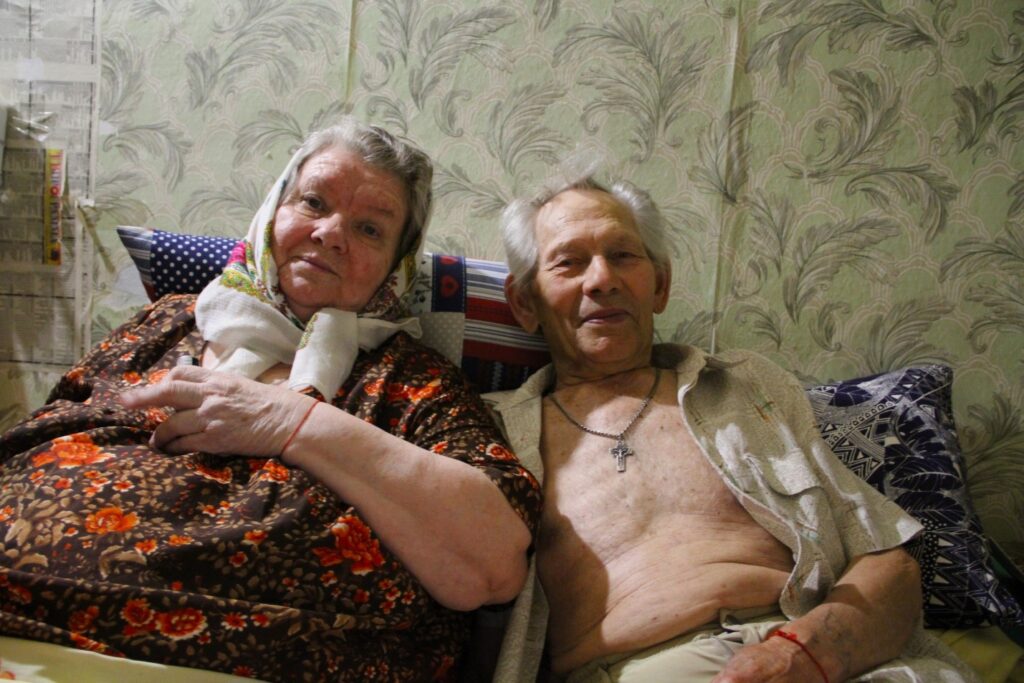 "When I retired, we left for Popasna, for Novozvanivka. It's my birthplace. I was born and baptized there, and all my relatives are there. We have a summer house near Popasna in a village there. We moved there and started a small household farm: we had chickens, ducks, geese, a cow, we had everything. We were better off in retirement than when we were working. And that's where the war caught us", – he says.
82-year-old Valentina recounts how the Ukrainian soldiers took them out in the winter of 2014. The elderly couple spent 16 days in the basement during the heavy fighting. The snow was thawing, and the water was dripping through the awning into the basement. Valentina lost the use of her legs, and they could not leave by bus when people were evacuated.
She still cannot recollect the war without tears:
"They bombed us severely. We had an old Moskvich (soviet car, – ed.), and their leader (officer, – ed.) shoved me into this little car. Shells were exploding around us, they were shoving me into the car, and we left in the clothes we were wearing when we came out."
Fedor was wearing kirza boots and had given his own ones to his wife. They didn't take anything with them, not even spoons or bowls, he says. In the village of Novozvanivka, where they lived, there used to be 150 people – now there are ten times less. The village ended up the frontline, and the houses remained looted and destroyed.
"Back then it was like this: From Popasna it's about a mile and a half to our village. As soon as it turned dark, they came – we have a paved road in the village. They came to Popasna, stopped on the road and shot in the direction of Pervomaisk, one after the other with, what is it called… "Grad" (multiple rocket launcher, – ed.) They fired 50 shots, started the truck and took off to Popasna. And after 10 minutes the others hit back at us above our heads. And that's how it was. And where could we go? Only to the basement", – Fedor recalls.
In the winter of 2014, they were transported first to Maloryazantsevo, then to Lysychansk, where they live today for the fifth year. A resident from the city gave them shelter. Fedor fell into a conversation with her at the market while he was buying a cap from her: "She wanted 30 hryvnia for it. I said, let's make it 15! I am a refugee, a resettler. Wherefrom, she asked. I told her. She said, oh, I'll give it to you for free! And that's how we met. She said they have an apartment that is empty: "We have furniture there, and a washing machine, and everything; it has been empty for a year. We are afraid it might get plundered. You can have a look, if you want to stay there, but we have started renovating it". I said, well, it's better than in the basement".
In the first years of the war, they, like all internally displaced persons, were paid an additional 800 hryvnias, and the Red Cross gave out food and vouchers. And now they are not getting assistance, since the couple moved not from the non-government controlled territory, but from the Ukrainian. And although Novozvanivka is in the frontline zone, all their appeals to the president, the ministries, and to local authorities have been in vain.
"Now we are hoping for the new government. We must try to write to the new president," sayd Fedor.
"Don't waste paper, Fedunya, dear", – asks Valentina, patting him gently with a fly swatter.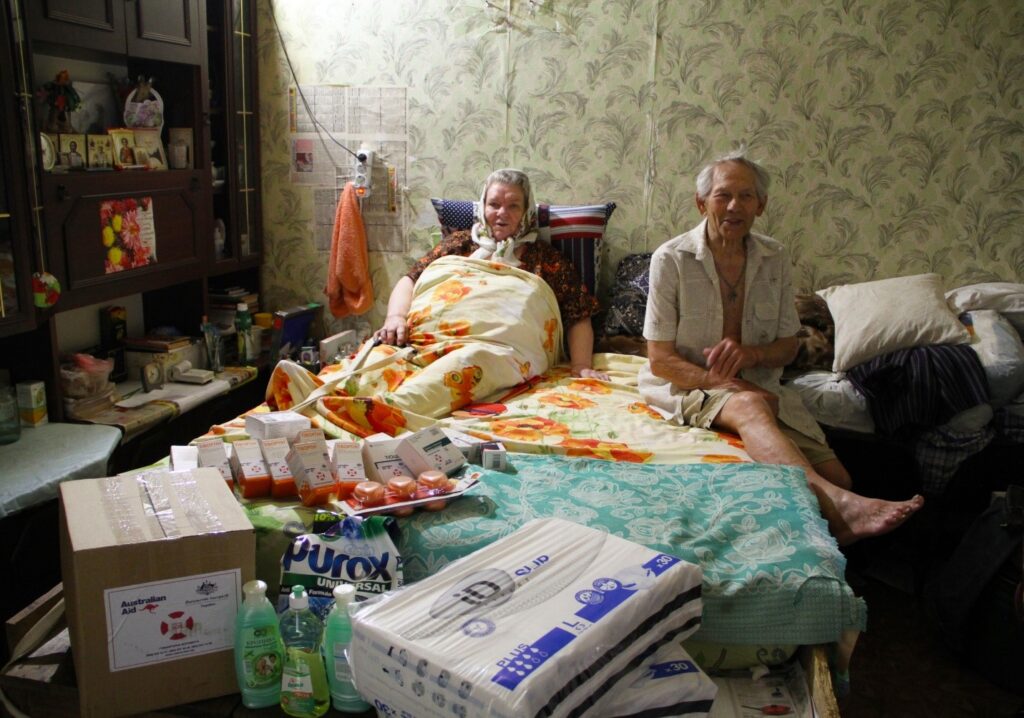 The Charitable Foundation "Vostok-SOS" continues to provide targeted assistance to displaced people who find themselves in difficult life situations like Fedor and his wife Valentina, who has been unable to walk for 5 years and is in great need of expensive medications. Their son is disabled, and the only support they have is Nina from the Ukrainian Red Cross, who regularly visits the elderly couple and makes soup for them.
Fedor and Valentina received us with much gratitude. As part of the project supported by the Australian Government, we distributed medicine, diapers, household products and food to them.
Material prepared by Julia Samokhvalova for Vostok-SOS