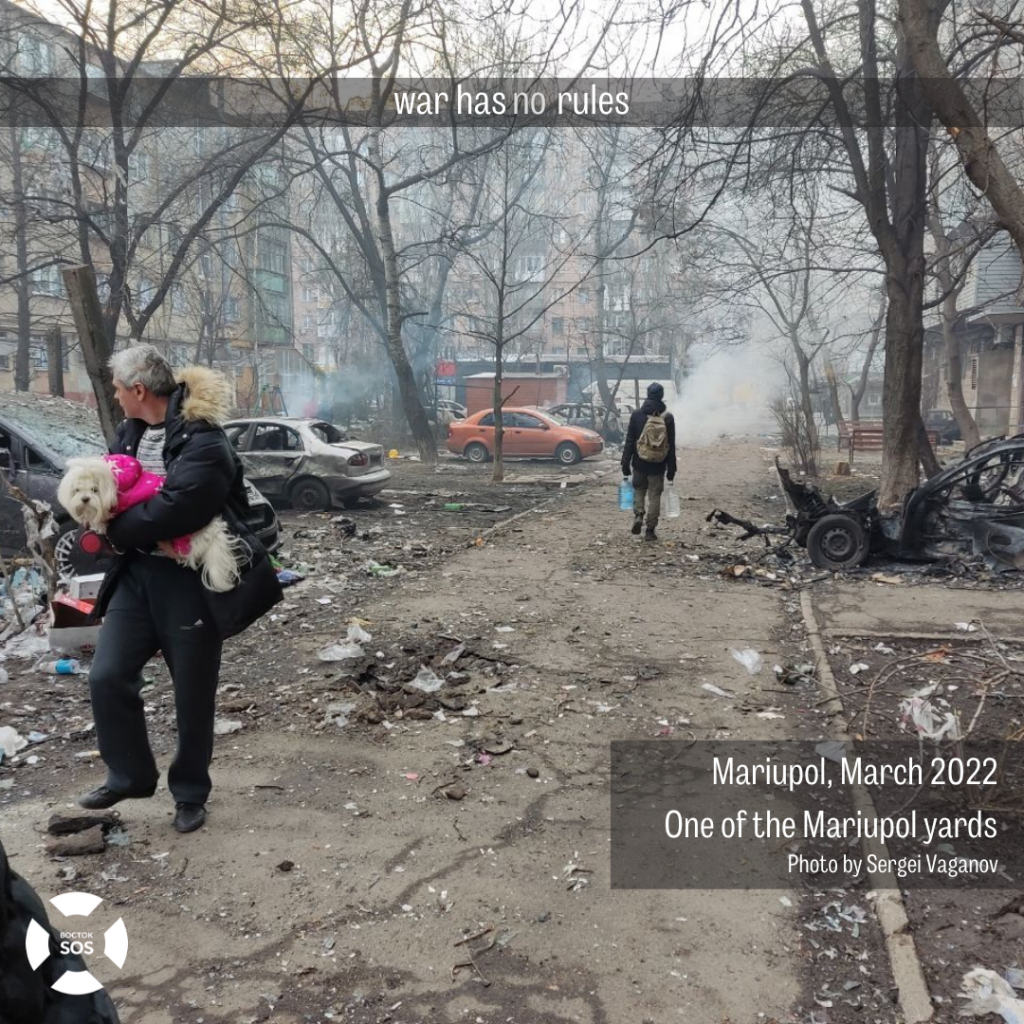 Serhiy Vaganov is a well-known front-line journalist in Donetsk region, a talented photographer and an astute documentary filmmaker, in his own words "twice a fugitive, twice a homeless man". He was first forced to leave his native Donetsk in 2014, and now – Mariupol. Today he lives in Uzhgorod, where he has found temporary shelter, as well as hundreds of thousands of other Ukrainians from the east.
Serhiy had to leave Donetsk in a hurry, immediately after talking to armed strangers who detained him just on the street and during interrogation they said that he would not be able to live in Donetsk and work in Ukraine, and then offered him a good well-paid job on Zvezda TV channel.
"I'm asking", says Serhiy Vaganov, "Do you offer me to work for the channel of the russian Ministry of Defense?"
They say, "Yes".
I say, "What if I refuse?"
"You will dig trenches for free".
I took out an inhaler and showed it: "What trenches, I have asthma!"
They say, "Well, you'll die soon".
The next day, Serhiy and his wife settled in Mariupol, where he had lived for eight years until February 24.
From that day on, Serhiy could only watch russian troops destroying Mariupol step by step – first destroying civilian infrastructure, then beating houses and crowded places:
"At first we learned that they were shelling Skhidnyi. Then – that they wiped off the map Sartana… While the Internet was working, I learned that the refugees from Sartana had been placed in the cinema "Savona", in the drama theatre… Life in the city was slow. First the light disappeared, then it was restored and the Internet either. And then the light disappeared again and it was clear that it was forever. "Forever" – it was really scary… After the light the water disappeared… We managed to take half a bath of water. Gas was the last one to disappear – we started cooking on the fire".
Serhiy says that during the strikes on the pumping station of the Old Crimean Reservoir (which supplied water to Mariupol), russian tanks moved through the Old Crimean Cemetery, destroying monuments, destroying memory of generations of Mariupol residents who lived in this beautiful city.
Serhiy lived in a house where a bomb shelter was set up. But due to severe asthma, he could not stay in the basement for long. Therefore, during the shelling, he hid in the corridor of the apartment with his wife, fully aware of the insecurity of such protection – purely from broken glass.
"There was a military unit of the National Guard near our house, about 100 meters away", Serhiy recalls. "And as long as we were there, not a single shell hit the military unit… However, one shell flew quietly to one of the [residential] buildings, smashing two floors. Then a shell flew into the next house and exploded inside. We had broken frames, and it was cold. We made some strips with scotch tape, sealed everything, realizing that all this will not withstand the next close explosion.
The challenge for the Vaganov family was not only the constant cold in the apartment, but also the lack of water. Serhiy's wife was trying to keep the apartment tidy until the day they left. It was an opportunity to distract from the constant shelling outside the window, at least the thought of putting everything in order in the house.
When water supplies ran out, Serhiy collected technical water for the family's needs from gutters, and went for drinking water in the neighboring yards, where city services brought drinking water tanks, sometimes under fire:
"We went for water when it was brought by car to neighboring yards. One day we were standing in a queue for several hours – and we didn't have enough. The next time we went out earlier, it was at a boarding school. We were standing, hoping that we would have enough, but mines started falling nearby – and we ran away. We ran from porch to porch. Only for the third time we managed to take two six-liter cylinders – water was brought near our house".
With each passing day, it became more and more scary to leave the house, because air strikes began in the city. There were days when planes dropped bombs every 15 minutes. If at that time Serhiy was not at home – he was counting explosions – dropping a plane – bombs or missiles, four explosions… then you could move on. Not everyone was lucky enough to get to a safe place or just return to their homes.
"I saw the body of a man lying in Bohdan Khmelnytsky Street, and the remains of a mine or hail – a shell…", Serhiy describes the situation in the city. "He was lying for a long time, it seems, for two days. Then a grave appeared on the flowerbed next to it – someone had buried him. This was probably done by strangers, in the flowerbed, because the ground there was softer, it was frosty at that time…"
Planes dropping bombs on a peaceful city flew at high speed and very low. Serhiy says that they were without identification marks, but there was no time and opportunity to look at them – people tried to hide if they heard the plane approaching.
Because of living in such conditions, Serhiy started feeling the exacerbation of asthma, he began to lose weight and strength. Only on March 15, together with acquaintances, the Vaganov family left Mariupol. In early April, they got sad news – a house with a parents' apartment, which was so lovingly cared for by his wife, was first robbed and then burned:
"Yesterday I got the news from the house chat that our house had burned down. My neighbors Gena and Marina are "gone". There is no connection. It is written that a russian tank fired at point-blank range on the five-story building until it caught fire".
Serhiy Vaganov's story is not only about the pain of losing his home, but also about large-scale war crimes that have taken place and continue to take place in Donetsk region since 2014.
It is also about creating conditions in Donetsk under which journalists of independent publications and pro-Ukrainian activists were forced to leave home, an interesting work and public activities for the development of their hometown. This eventually led to changes in the demographic composition of the population of the occupied territory of Donetsk region, thus "cleansed" by armed groups of all Ukrainians.
This crime under the Rome Statute of the International Criminal Court is classified as deportation (Article VIII, paragraph 8): "deportation or movement of the population of the occupied territory or parts thereof within or outside that territory". Accordingly, the organization and commission of such acts should be punished under both international and national law.
Similarly, the destruction not only of civilian infrastructure, but also of the city of Mariupol itself – its houses, schools, hospitals, even cemeteries – according to the Rome Statute is a war crime and is described in paragraph IV of Art. 8 as "illegal, senseless and large-scale destruction or misappropriation of property not caused by military necessity".
Although the Rome Statute has not yet been ratified in Ukraine, Ukraine nevertheless recognized the jurisdiction of the International Criminal Court ad hoc ("for a specific case") in 2014. The Office of the Prosecutor is already actively collecting information on the most serious crimes throughout Ukraine. The destruction of Mariupol and the forced demographic change in Donetsk region are gross violations of international humanitarian law by the russian federation and are part of a wider attack on Ukraine's civilian population.
We remind you that Vostok SOS has been collecting information on war crimes since 2014 in order to ensure justice. If you have witnessed or been a victim of a war crime, report it to Vostok SOS documentaries. We believe that war criminals will be punished!
You can report a war crime by phone:
+38 099 297 64 34
+38 099 736 42 41
+38 068 664 21 04
+38 068 827 28 95
+38 050 779 47 26
+38 095 374 82 70
Or by sending your story to the mail: