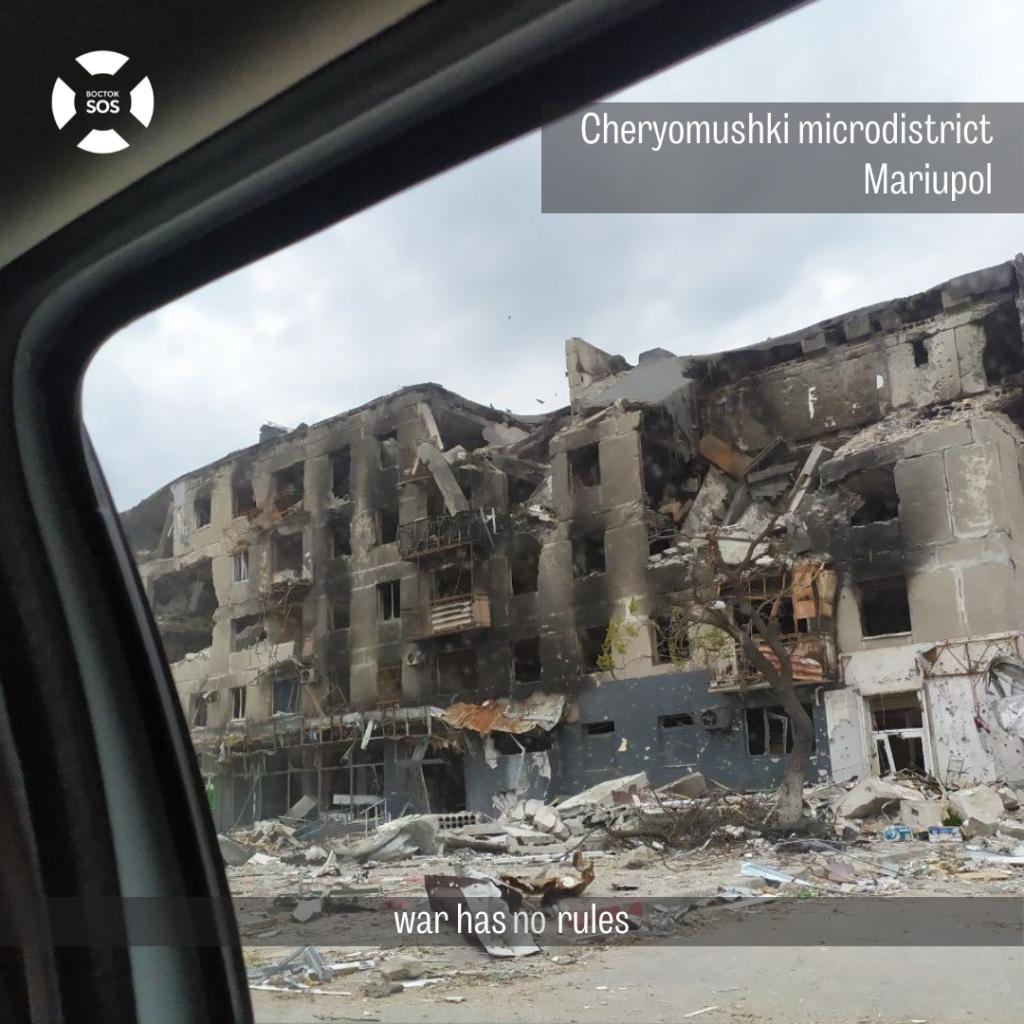 Olena Ruban is from Mariupol. She is the owner of a shop in the city center. In the first days of the war, she was sure that it wouldn't be worse than in 2014. Only two or three days later, after she saw the almost empty food shelves at the Metallurgists' ATB, Olena had her first anxious thoughts. However, at home, in the Prymorskyi district of Mariupol, Olena felt completely protected. This area was almost a complete private sector, there were several schools, hospitals, nine-storey buildings in Cheremushky. In addition, Olena's house was a small "fortress", as if designed to survive the difficult times. It had two floors on top and a ground floor with three exits, a chimney, generators, water supply in two tanks, a pumping station. Therefore, when electricity, water, gas and heat disappeared in Mariupol in early March, the temperature in Olena's house was 18 degrees (at -13 outdoors), it was possible to cook in the chimney, turn on generators twice a day to have tap water. In the evening, Olena warned her neighbors about the time when the generators would work, and they brought mobile phones to charge. Sometimes 20 phones were being charged at a time.
For many neighbors and relatives, the Ruban's family house became a safe place in those days. At first, their neighbor moved there, her husband was a sailor on a long voyage and she was afraid to stay at home alone during the war. Then other neighbors began to come to sit out the shelling on the ground floor. With a large family, her husband's cousin drove in for a couple of days and went on in the direction of Dnipro. Almost all of the time there were twelve or fourteen people of all ages in the house.
Despite the fact that there was no military facility nearby, on March 6, russian troops started shelling on the Prymorskyi District.
"The first shelling was on March 6", Olena recalls. "The shell hit the area next to mine, behind my house. When it broke, the fence was torn down… And a piece shattered the glass in one window on the second floor. And the Christmas trees bent down, they took the hit… The neighbors' windows were smashed".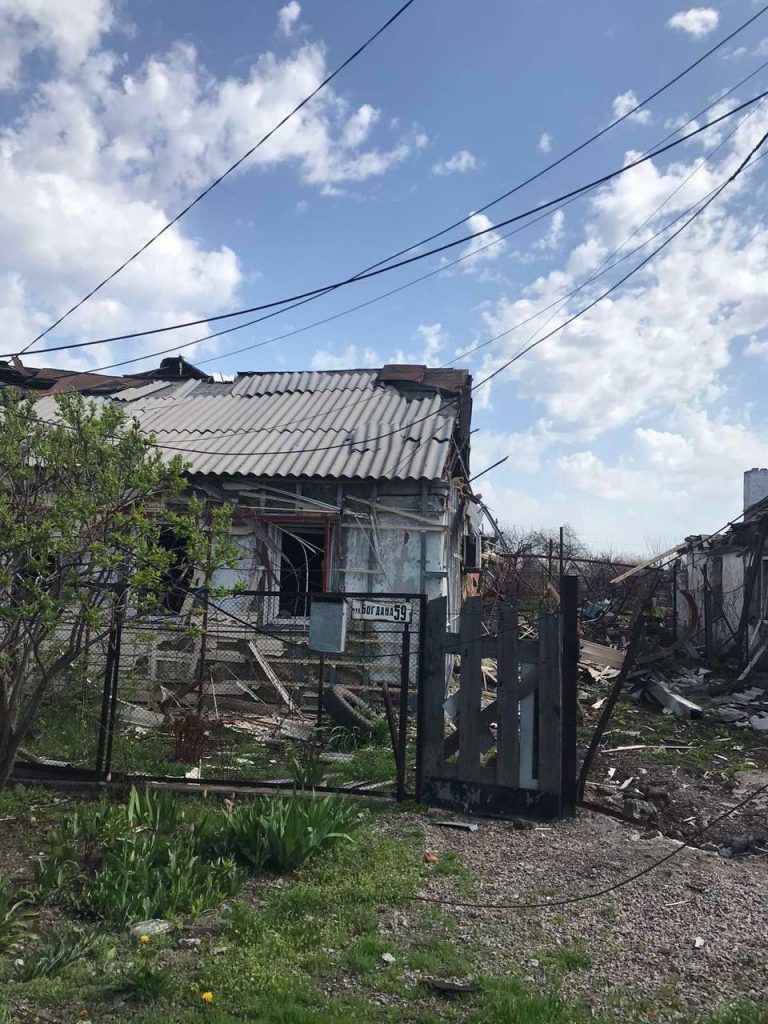 After March 6, neighbors, whose house had been hit the most by the shelling, came to the Ruban family. There were seven of them, including a 2-year-old child. Of course, Olena welcomed everyone:
"We removed a section of the fence so that they could pass through our yard into the house. And when the shelling started, they were sitting with us".
In the next days, Prymorya was not shelled, but from the second floor it was clearly seen how the russian military were destroying the center of Mariupol:
"… Planes were constantly arriving. As I understood, from the side of Yeisk (the city of Yeisk is the administrative center of the Yeisk district of Krasnodar Territory in russian federation, there is an airfield near the city – e.n. Kaplun N.M.). I saw it all with my own eyes. It came in from the side of the sea, rising, peaking and then dropping bombs… First, in March, when the plane came in, it dropped four bombs. That is, they carried four bombs each… because we heard four explosions".
Despite the fact that there were no military units or military facilities in the center of Mariupol, it was being shelled very heavily. For a long time, the behaviour of people who got out from under the shelling and found shelter in Ruban's house seemed strange to Olena.
The 84-year-old neighbor's mother, whom Olena's husband had taken out of the basement of one of the multi-storey buildings, couldn't speak for some time and was constantly shaking. Someone hid drinking water. "I don't know, they behaved strangely, if they heard [sharp] sounds – they just fell … I didn't understand what's going on, because I hadn't experienced that horror", Olena shared her observations at the time.
On March 5, a humanitarian corridor for civilians had to be opened through the Prymorskyi District, along Gagarin Street, in the direction of Melekin and Mangush. However, it wasn't officially launched. From March 15, civilian cars began to leave from Gagarin Street at their own risk.
"There were a lot of cars in the first three days going through this corridor where people were let out", Olena recalls. "It was impossible to drive – the traffic stopped. And it was scary that the cars were completely broken, without glass, some without roofs at all. We stopped and asked, "Where are you from?", "We are from Simnadtsyatyi, we were bombed there", "We are from Kuprin – there are no houses left there at all".
At that time, the nearest neighbors and relatives of Olena's family left Mariupol, and for a short time there were only four people in the Ruban's house – Olena with her husband and a neighbor with her old mother.
The supply of technical water in the house ran out, and they had to collect water at school number 31.
Small grocery stores that used to work in Prymorskyi were closed because the delivery of food had stopped. Instead of bread, Olena started baking pancakes from flour and non-alcoholic beer.
On March 10, there was no telephone or Internet connection. However, one of the neighbors said that the connection had been near Prymorya shopping mall. Luckily, the connection was really there, Olena was able to call her son and say that they were alive.
In the second half of March, Olena seemed to be lost in time:
"Honestly, time had already been lost, we didn't know the day of the week or the date… We were looking at the phone – that's how we focused… We were waiting for the morning, then – for the night. We were sitting at home… Almost no movement, we saw no one. There was no light, no water, but we were sitting and hoping that everything would be alright… Friends persuaded us to leave. But we thought, if we leave, everything will be robbed. And we stayed. Human feelings, of course, you think that it will not affect you".
After some, rather short time, the humanitarian catastrophe reached the Prymorskyi district of Mariupol. Water, even technical, could no longer be collected anywhere. Later, during this period, one of the neighbors died of old age, and a little later another neighbor died of insulin shock because no insulin could be purchased anywhere. Both the old woman and the man were buried in their backyards because they were afraid to leave the area where they would not be shot.
"There was no humanitarian aid. We heard that Ukrainian volunteers had brought bread to Vodnyky Hospital and Fedorov Street a couple of times. But we stopped going there, because when we were told that there would be bread, there was shelling, and several people died. I saw it with my own eyes", Olena describes the humanitarian situation and the situation around her.
On March 20, Olena could go to Bilosarai Spit for food. There were checkpoints of the so-called DNR at this time around Mariupol. She was accompanied by a couple with a child – another neighbor, who also ran out of supplies. They knew that the DNR humanitarian headquarters was working on the Bilosarai Spit, and were hoping to receive help. Although the building with the appropriate inscription was really there, the neighbors were not given anything – only passport data was taken. On the way back, at the checkpoint at the entrance to Mariupol, the DNR soldiers stopped the car:
"They asked, 'Where are you going?' I said, "Home", says Olena. "They started laughing, asking, 'Do you have a house?' I answered, "So far – yes!".
It looks as if someone took the notes, because a couple of days later, on March 27, russians began to shell those places.
"And after March 27, a real nightmare began", recalls Olena. "They started bombing the Prymorskyi district, our street. And the house on the corner of the road, which is the so-called humanitarian corridor, was being hit and it caught fire. And my husband ran, putting out the fire so that the neighboring houses would not catch fire further… That day there was a hit in the Prymorya shopping center. We were sitting and watching the city burn… Most of the fires were in the center, I think – Kuprin, Simnadtsiatyi… In one day we counted 13 places with fires… That is, something was burning all night".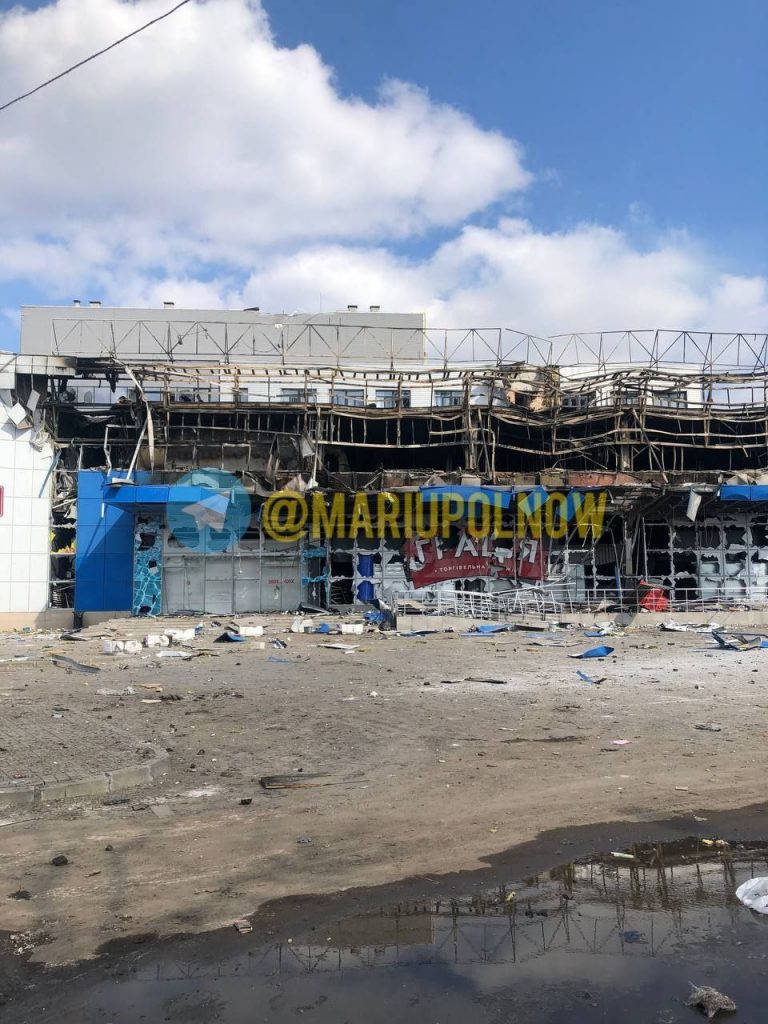 The next day, the houses in the street where Olena lived, were on fire again. A day or two later, a family from Nekrasov Street came to them – four adults with two children, the youngest of whom was 3 months old… They were almost without clothes – they ran out without anything. Windows and doors were smashed in their house. They stayed with the Ruban family, Olena found clothes and shoes for everyone.
On April 1, at about 10 am, three hits took place in Ruban's house. Fortunately, at this time most people were in the basement:
"We were sitting on the ground floor: my husband was lying on a mattress by the fireplace, I was sitting in a rocking chair, and the grandmother, my neighbor's mother, who walked badly, was lying on the couch. And such a mad explosion, hit… One explosion, another. She then realized this. We had a hit on the roof on the second floor, the floor slabs collapsed, the stairs were broken… Grandma, she jumped like that! I don't know how she went down to the basement without crutches! And then there was the third explosion – the floor slabs between the first and second floors broke… My husband shouted, "Olena, are you alive?". I said, "Yes". "Run to the basement!". I was all in the plaster, completely. Two concrete blocks fell on one side of my husband's head and on the other. And the fragment hit the slippers on his foot. Luckily, the leg was almost not injured!".
After that, Olena realized that the house had gone and they all had to leave Mariupol. Olena and her husband could leave the city at any time, but Olena didn't want to leave people, hiding in her house. Moreover, on April 1, another family with two children came to them, who also had lost their home, and Olena and her husband had to look for transport to take 14 people out of the city.
Beginning from April 1, the russian military were purposefully destroying the Prymorskyi District. They were firing, Olena saw rockets, thirty meters from her house, there were two rockets that did not explode.
However, a few days later, Olena's husband said, "I thought we had survived hell on April 1, but then we found ourselves two steps lower!"
Air bombs were falling on the private sector. At the same time they began to bomb the port:
"The port was being bombed in such a way that… We have a distance of about a kilometer to the port, if down… Concrete from the port flew to us, pieces of concrete!", Olena describes the events of that time.
Somewhere nearby, probably in Gagarin Street, a russian tank was driving and firing almost constantly. From these shots and explosions the slabs were shaking even in the basement.
At that time, the planes were dropping not four, but two bombs, then – one at all. They left huge funnels:
"One such bomb fell on the sixth house in our street, but no one lived there. The funnel itself was 10 meters in diameter and 3-4 meters deep. When it was falling, my husband was outdoors. He said that the garage and the shed were flying 20 meters away. Everything flew up and fell down, and it was thrown away by the blast wave. He was bruised…".
In such conditions, Olena almost never left the shelter in the basement of the house. At that time, only a few walls of the first floor remained, dogs ran into the house, and there was nothing to cover the broken walls with. Because of this, the improvised kitchen (gas cylinder and single-stove) was taken to the opposite house, which was considered almost intact – there were no windows and one corner was broken. The food for fourteen people was being cooked there. There was a bathroom in the house, where Olena was finally able to wash her head with ice water.
All this time, the area of the house remained under fire, because of this fuel canisters were left in the gardens – so that in case of impact, everything would not explode. Finally, a car was found in one of the neighboring garages, and there was plenty of transport to leave. But due to constant shelling they could not organize a trip.
On April 8, they started to use small arms in the street. On this day, Olena saw the Ukrainian military for the first time. They moved in a pickup truck, were armed with machine guns with grenade launchers and had something like a javelin.
The military warned that fighting would take place on this street in the near future, and advised everyone to leave:
"Think, because if [the russians] find out that we (the military of the Armed Forces – e.n. Kaplun N.M.) are here, they will bomb so that everything will be wiped off the face of the earth. The man said, "We're in the basement". He said, "Well, if you stay alive, you'll be covered".
And on April 12, at five o'clock in the morning, everyone got in their cars and left the city:
"I tied white ribbons and inscribed "children" on the glass. And we went to Gagarin Street, the place where a humanitarian corridor used to be. It was covered with glass, fragments, all fences were broken… I was driving a car… I didn't believe I was leaving… There was a DNR checkpoint near Vodnyky Hospital, they saw the sign "children" and were surprised that we were going.
On the road to Melekin, at the end of Gagarin Street, there were five rocket systems on one side of the road and five more on the other. Ready to shoot [at us]… They were aimed at us… They had the letter Z – the white letter was…"
On that day, everyone managed to reach Urzuf safely. Later, Olena and her husband went through Berdyansk to the territory controlled by the Ukrainian government.
Olena still keeps in mind what the family had to go through in Mariupol:
"Mariupol has been simply wiped off the map, it really doesn't exist… Nobody was bombing it with high-precision weapons, because they just were bombing houses and the private sector. That is, not even multi-storey buildings, but where I lived. And in Cheremushky, there are no buildings left at all, there are houses with no walls, nothing. And I know for sure that in Cheremushky dead bodies of people were placed in the 21st office of Nova Poshta, and then in ATB, the only one in Cheremushky. There is nowhere to go. We have left. We will rebuild life in future, although we are not young. That's our "funny" story".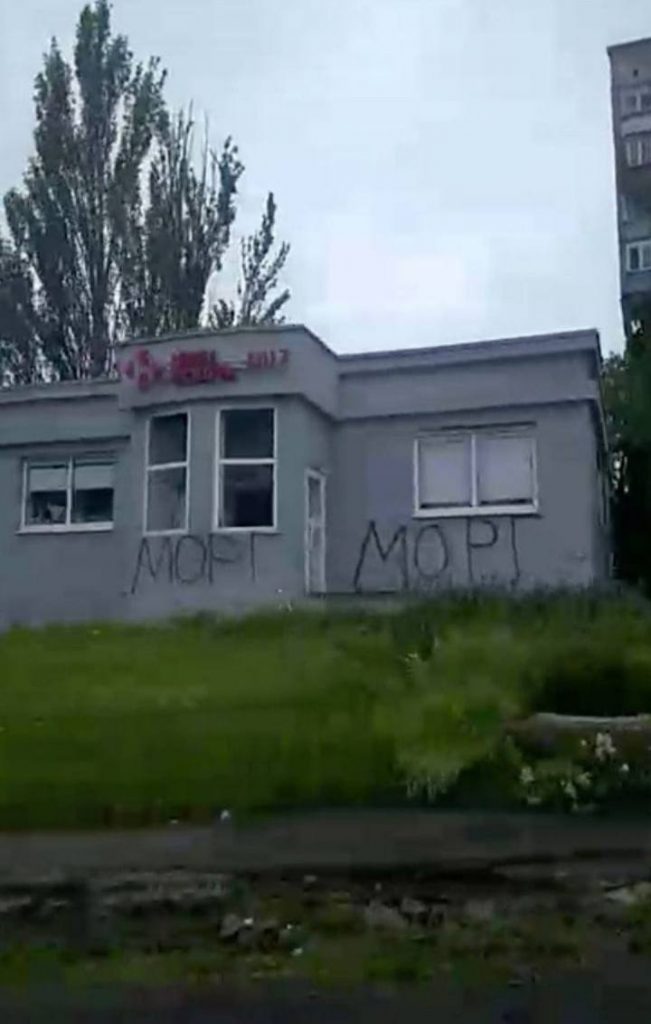 Olena Ruban's story of numerous violations of the rules of war, recorded in Articles 8 (b) (i), (ii), (v), (xx) of the Rome Statute, namely:
(i) deliberate attacks on the civilian population as such or on individual civilians who do not take a direct part in hostilities;
(ii) deliberate attacks on civilian objects, i.e. objects that are not for military purposes;
(v) attacks on or protection of unprotected and non-military purposes, cities, villages, housing or buildings by any means;
(xx) the use of weapons, ammunition and equipment, as well as methods of warfare of such a nature as to cause excessive damage or unnecessary suffering, or which are indiscriminate in nature in violation of international law of armed conflict.
Although the Rome Statute has not yet been ratified by Ukraine, the Geneva Conventions and customary law of war, which are binding on all armies, are strictly prohibited from attacking civilians, civilian buildings, the use of indiscriminate weapons, etc. The war has rules, and the destruction of the entire city of Mariupol is a gross violation of these rules.