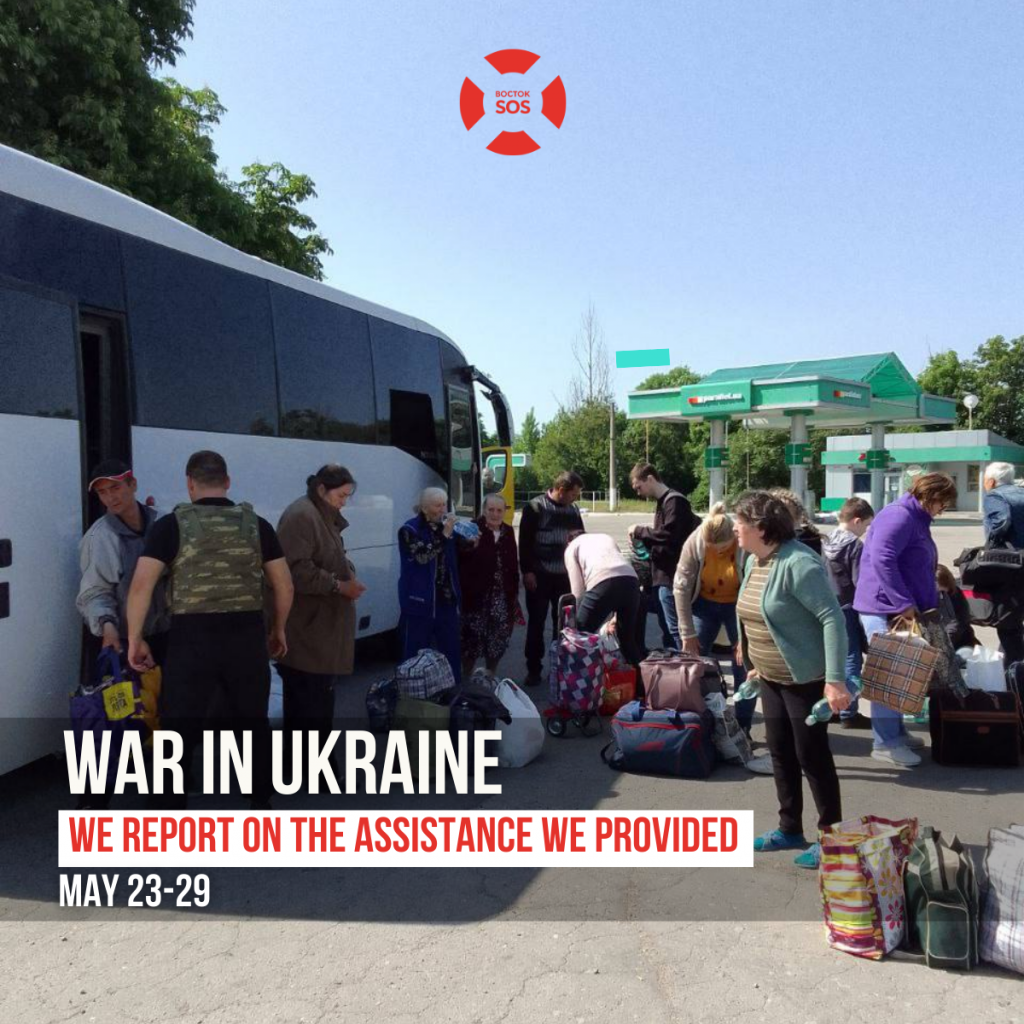 Every day we receive dozens of thanks and words of gratitude from people who Vostok SOS could help.
We, in turn, want to thank our partners, donors, volunteers and each of you! Without your support and donations, we would not be able to continue our work.
During last week we redirected to help:
286 657.80 UAH from MTÜ Mondo
1 948 362.84 UAH from Bunge Limited
460 216.66 UAH from Libereco – Partnership for Human Rights
1 388 889.66 UAH from Terre des hommes
2 003 075.50 UAH of your donations
This money was used to purchase humanitarian aid, deliver it, evacuate it and set up compact settlements for IDPs.
From May 23 to 29, we sent 13 cars that delivered:
In Donetsk region, 1802 sets of food and hygiene products, 69 mattresses, blankets and rugs. It was divided between Kramatorsk, Slovyansk and Maryansk MCA, Pokrovsk and Bakhmut communities.
2 pallets of overalls for firefighters, 100 pairs of boots and 16 batteries were transferred to Mariupol SES, which are now relocated to Cherkasy region.
In Kharkiv region, Chuguiv and Kharkiv, 400 sets of personal hygiene products, 454 sets of food, 64 children's sets, 1000 plastic containers, 50 mattresses and 100 sun lamps went to the CO Happy Future. Zinkiv community also received 100 sets of food and hygiene items.
Ust-Chorna community (Zakarpattia region) received 4 palettes of clothes, food and hygiene products, baby food and diapers.
In Kyiv region, we transferred the ECG Monitor to the Kyiv City Children's Clinical Hospital №1, boxes, each containing: surgical instruments, urinary catheters, tonometers and 4 boxes of infusion solution.
400 sets of food, 350 sets of personal hygiene products and 200 mattresses arrived in Borodyanka.
Each of you can join our work!
🔥Join the community of philanthropists and volunteers of "Vostok SOS"! Even 10 hryvnias can save lives.
💵 You can make a donation to a private card of the executive director of the fund: 5168 7450 3091 9036 (Yulia Krasilnykova).
💵 Other details and currency accounts are at the link: https://cutt.ly/6ACN9yU